Frequently Asked Questions
Have questions? We're here to help
Collapsible content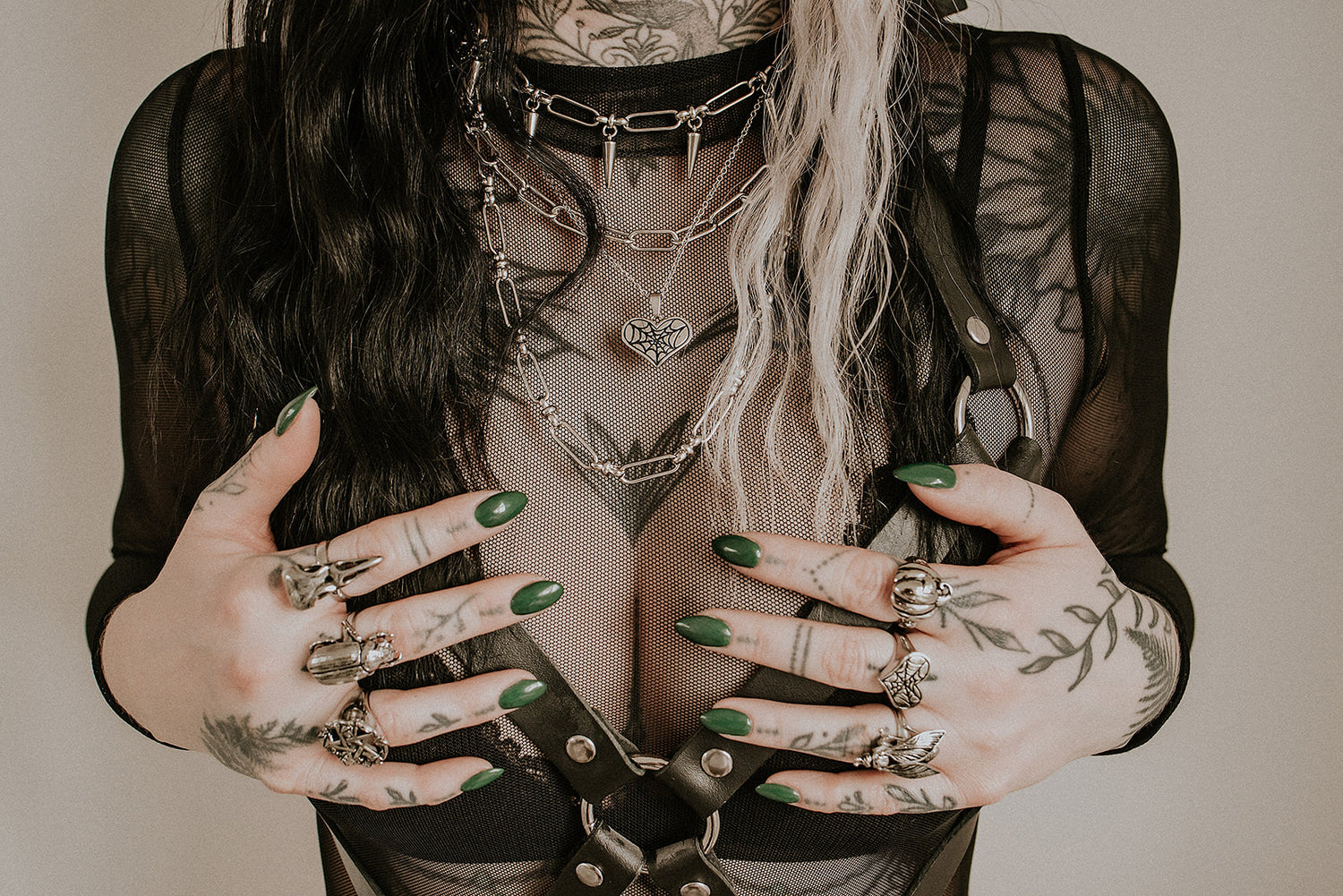 Who Are We?

Mysticum Luna is an independent Gothic Stainless Steel Jewellery brand hailing from the Steel City, U.K. Ran by a small team of women who strive to bring their customers high quality Stainless Steel, Gothic Jewellery and homeware with a touch of black magic. Mysticum Luna was born out of a University bedroom in 2014 and since then has grown into a haven for all things dark and twisted! 
What Are Your Social Media Links?

Instagram: www.instagram.com/mysticumluna

Facebook: www.facebook.com/mysticumluna

Twitter: www.twitter.com/mysticumluna

Email: info@mysticumluna.com
What Metal Is Your Jewellery Made From?

All of our jewellery is made from Stainless Steel. Stainless Steel is an extremely strong metal which will not stain, scuff, bend or succumb to damage easily. It's also a great metal for people with allergies, precisely why we love it so much!
Can I Order A Custom Piece?

Unfortunately, complete custom pieces are not a possibility for our business. However, if you'd like to adapt an existing design, i.e. chain length, hoop size, please do not hesitate to ask - info@mysticumluna.com.
Can I Cancel My Order?

Of course! If your order hasn't been marked as shipped, we can cancel your order no problem! If your order has shipped, you will have to return your items in order to receive a refund.
What Are Your Postage Times?

As many of our items are made to order, we ask that you allow 7-10 working days for UK delivery and 14-30 working days for worldwide.

We will be in contact ASAP if we have any issues in fulfilling your order.

Please note: 

We hold no responsibility if you provide us with the incorrect address.


We have Royal Mail collections Monday, Tuesday, Wednesday, Thursday and Friday. Please take this into consideration if ordering on the weekend, your order will be dispatched on Monday as we are closed over the weekend!
Will You Pay For Any Custom Fees?

From July 2021 all parcels sent to the EU may incur customs and VAT fees, no matter what is the amount of your order. Please keep in mind that we are not responsible for paying them when your parcel arrives to your country.

You may be asked for an additional payment to receive your order if the delivery address of your order is outside of the UK. We wish you didn't have to pay these charges, however they are controlled by your government - if we ever find a way around you having to pay them, we would do so straight away...but until then, your government won't let us collect or pay them on your behalf. Please don't refuse an order if you run into these fees - we won't be able to refund the cost of shipping it back to us, or the original shipping cost. You can view more information by checking in with your local import offices.
What Is Your Returns Policy?

Customers can return their Mysticum Luna products for exchange or refund within 14 days of receipt. If you would like to return or exchange an item, please send your items to:

Mysticum Luna

4 High Street

Braithwell

Rotherham

S66 7AL

Please include the returns form received with your order. 

Unfortunately we cannot refund any earrings or piercing jewellery, this is due to hygiene reasons.


The returned product/products must be in a new, unworn condition.

Unfortunately, shipping costs and import fees will not be covered. Therefore you will only be credited the amount of the product you have bought.


The customer is responsible for the cost of returning the goods. Please obtain a proof of postage for your own records or send your items tracked. We can not be held accountable for returned items that do not make it to us. In the event that your package is lost we can advise you on how to open a claim with Royal Mail.

Above all, we hope that you love your new gothic jewellery, but we understand if you need to return your items.


Items showing defect deemed to be the result of general wear and tear, accidental damage or neglect will not be regarded as faulty. This also applies to crystals that may have inclusions and/or imperfections. Examples of neglect are; instances where jewels/crystals have been caught on other items, been exposed to excessive wear, moisture, chemicals, body lotions etc, or plating has tarnished due to contact with water. Manufacturing faults must be reported to us within 90 days from purchase. Reimbursement or replacements cannot be offered outside of this time.

We DO NOT accept returns or exchanges for any items purchased in a Lucky Dip.

If you are unsure about returning your item, please email info@mysticumluna.com